This is a very famous old church not far from San Miguel de Allende. The streets are red sandy earth and stray dogs wander among uniformed school children.This Church was at the heart of the Mexican revolution.

The frescos from the 1600's are now in the process of being restored.




The statue scenes are incredible.




Notice that the sculptor had no idea what a Roman soldier looked like. So he sculpted him as a Spaniard (far right).




As a Protestant I have always appreciated the Mary Statues in Catholic Churches. It is something Protestants just can't match.




And Jesus,



Penitante are still active in this area.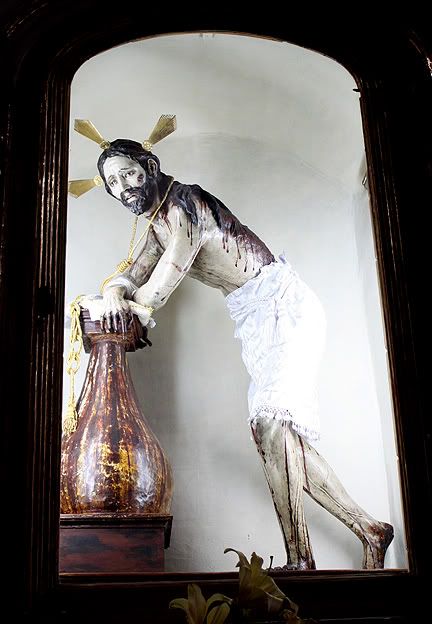 I have always been impressed with the passionate nature of The Catholic Church. I ask questions, Like why is Jesus heart so big and on the outside. The answer- Because his heart was so huge with compassion and forgiveness.. Does James always dress in red and green? . Yes.( I knew Mary wore blue.) And why do some Angels have no bodies, just wings and a head? The answer is because they are the highest of the Angels that no longer need a body.

I think I am going to see if I can make a Seraphim with paper mache now. I admire them.