It seems that I only get to posting here after a weekend. I mean to do better. But I really don't want to commit to 365 photos a year taking and posting.
Right now, I feel overwhelmed on Humane Society photo days. Too many dogs, taken in a hurry. I have an aging camera, an aging mind and an aging photoshop. I have new volunteers, but thus far they are not so quick on getting photos out fast. They take much better photos than I do. But it is crucial to get them out quick. The longer a dog stays in a shelter situation, the longer it takes to make them good dogs in a good home.
I have had a toilet for a week or more in my remodeled bathroom. Now we are working on shower and walls. So many problems were discovered, I just don't want to discuss them. Wiring, structure, plumbing.
We have had a rain starved summer and fall, but today it rained. Ah rain, beautiful rain.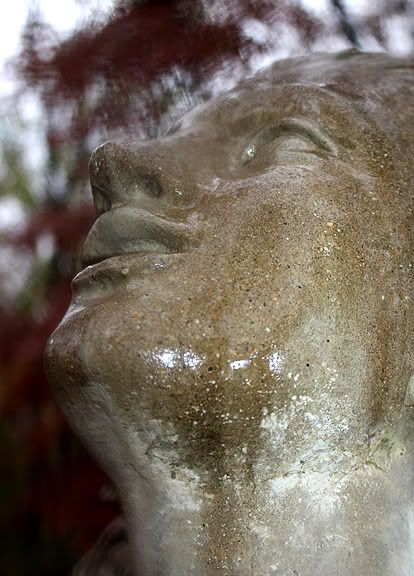 As it turns out, this is our largest local cemetery and this is the only full figure in it. I like to visit her from time to time.
And this is another spot I come back to every November, usually in the rain. I just like it here.