Today I went to Owen's Birthday party. He is seven. The candle was from an Asian shop where the instructions sounded ominous. "Contains gun powder. Stand back 40 cm. before lighting." On some level, Owen was Horrified. But it was cool.
It starts off with a big whiz.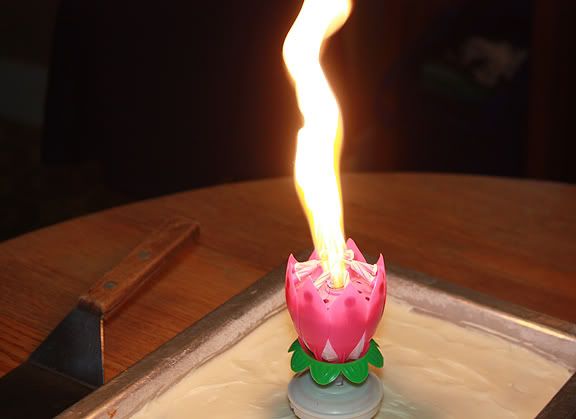 Then it is a lotus blossom. Eight petals.




It is very cool. I am thinking I could use four of these at 8 blossoms each for my next birthday.I have a pyromaniac friend who would light them for me, if I was intimidated. He has his own blowtorch.
Except I don't know where to find them. Problem is, it keeps playing the Happy Birthday song over and over unless you cut a string. No one wanted to cut the string, but the longer you let it go..the more off key it gets.
I wonder what a choir of four lotus happy birthday candles would sound like. especially when they wind down. Eventually, Owen's was removed to the back porch. I wonder if it is still playing.
And then there is the problem of the Christmas gift that really fits no one and was held back. Mostly everyone is smarter than this. It is a robot bank and alarm clock. It has no true off switch and swings its arms randomly. You can program in your savings goal. It is having problems with $20,000 as an amount. Its bank belly is really small




He lights up whenever he wants to, because I don't understand the mechanism. If you turn the sound on, he always wants a deposit. Really, he is kind of creepy. I will keep him around for a while. Just as I used to do with boyfriends.