When I was little one of the highlights was going to Mrs. Locander's house in Indianapolis. It was ultra modern. What you would call mid century modern these days. They even had an article on it in a magazine. Probably Better Homes and Gardens,
Mrs. Locander's dog Duchess had 12 puppies. My friend and next door neighbor, Barb and I could go play with them in the puppy pen any time we wanted. Which was often, 'til one by one the pups found homes.
Duchess, the dam, was brown and black-classic show pattern. One time Barb and I had a marriage ceremony for Duchess and my dog Inky, a Cocker Spaniel in our garage. It was festive, but annulled.
Duchess's puppies had lots of white. Barbara and I named them all. And today I was reminded of this.
I meet Diva.
Young Boxer, not as pouncy as most, just a tad cautious and oh so beautiful.




She reminded me of a puppy named Penny oh so long ago..that I loved in about 1955. Is this how the interest in dogs happened?

She is cautious, this new Diva. When I followed her and her handler back to the kennel, she looked back at me, as if I was not exactly trustworthy. That's okay. I got her photo and she is splendid.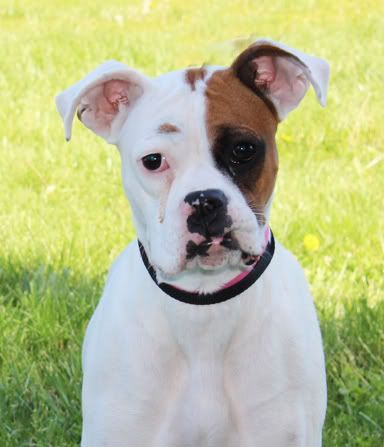 And really, I will try to post about something other than dogs. Maybe about my house painting or something else universally significant.